By David Tomas, on 6 February 2020
Lead nurturing is a key aspect of any inbound marketing strategy. Think of it in a skydiving scenario: The lead is the person who will be jumping out of the plane for their first time, while the nurturer (the marketing and sales teams) is the one who will be educating, assuring, and guiding the jumper before the time ultimately comes to take the great leap.
A lead nurturing strategy is about giving your potential prospect the right information at the right time. The right strategy and tactics allow you to increase your conversion rate and see your sales grow through the roof.
In this article, I'll explain how to increase your sales with an inbound lead nurturing strategy and run through the best tactics you can start using today.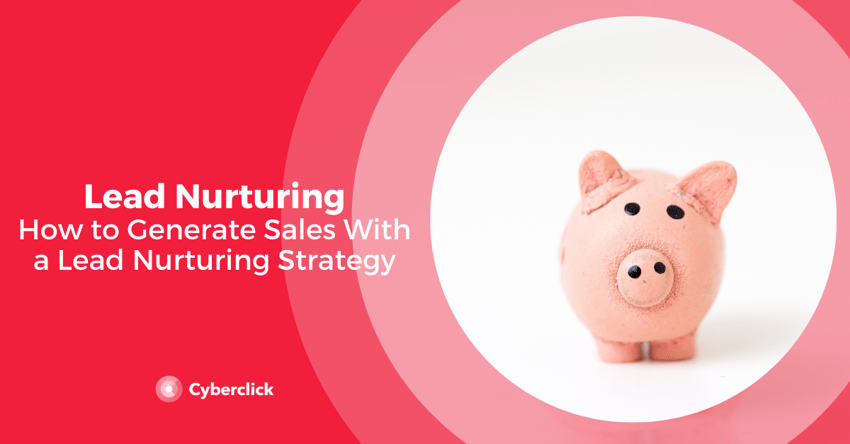 What Is Lead Nurturing?
Lead nurturing is the process of guiding leads, or prospective customers, through the conversion funnel by using the right communication at the right time. While lead nurturing can involve a lot of processes and set up, at its core, it is making sure you provide the right amount of contact and content, with the ultimate goal of pushing a lead along the buyer journey until they make a purchase.
Inbound lead nurturing is important because it allows you to ensure a prospect doesn't get lost or forgotten in your sales process. According to Marketing Sherpa, 73% of users who leave their contact information on a website are not ready to make a purchase. By nurturing the prospect over time you help the user become ready to take the next step and convert.
According to a study conducted by Forrester, companies who participate in sales nurturing report 50% more sales at 33% lower costs. In general, the benefits of this method are faster sales, a reduction in resources used for conversion, and an automated sales process. But you must ensure your strategy is well thought out and planned.
What Is Lead Scoring?
Before completely diving into lead nurturing, it's important to understand how lead scoring works. Lead scoring is a system used to rank leads, often through a numerical score. The score can be based on many different factors, such as readiness to convert, professional information, or engagement with your company. Lead scoring can serve as a major complement to your lead nurturing strategy.
Not all leads are created equal, so they shouldn't be treated equally. Lead scoring allows you to assign each prospect to a category. Once they've been categorized you can then start sending the right communication based on where they're at.
For example, SQLs and MQLs need different forms of communication and contact from a brand. SQLs and MQLs serve as a good illustration for the importance of labeling your leads.
MQL (Marketing Qualified Lead): These are leads who are interested in the brand, but not ready to be approached by a sales team yet; They need more communication before receiving a first touch.
SQL (Sales Qualified Lead): On the other hand, SQLs are prospects who are prepared to be approached by sales.
The qualifiers that each sales team uses to calculate a lead score can vary from company to company. However, in general, there are 3 main factors used to determine a lead's score:
Demographics: Analyze the demographics of your target audience and compare them to the lead. For example, if you're trying to target college students aged between 18-22, how does the lead you have compare?
Professional Information: For B2B services professional information such as location of the lead's company, the size of the company, and the lead's position within their company can contribute to the ranking.
Interaction with the Brand: Take a look and see how active the lead is with your brand. Are they opening your emails? Following your brand on social media? The lead's level of engagement can be a good indicator of their interest, and ultimately influence their overall score.
12 Lead Nurturing Strategies
There are many different lead nurturing strategies you can apply to different areas of your marketing campaign.
Here are the 12 tactics you can try today to start your lead nurturing strategy:
1. Coordinate Your Marketing and Sales Teams
It's been said that marketing and sales teams are like cats and dogs, but in reality, they're more like Golden and Labrador Retrievers. While each department has different operations and styles, they are ultimately both working towards the same goal.
The first step of your lead nurturing campaign needs to be getting your marketing and sales teams on the same page. If both departments understand what each of their respective goals are and agrees on how to identify relevant leads, then your prospect nurturing should begin to excel.
I also recommend using a shared tool so that both teams are able to see all of the relevant information about each lead. Just as identifying when and how to move leads along the funnel is crucial, it is also key for both teams to have eyes on the leads.
2. Understand Your Buyer Persona
If you haven't already defined your buyer persona then the time has come. A buyer persona is a semi-fictional representation of your ideal customer. Having a clear understanding of your buyer persona will allow you to better identify who is and isn't a right lead.
Staying focused on your buyer persona will allow you to determine which lead is worth the time investment and what kind of content and communication they will respond best to. You should define your buyer persona with your sales team so they are also clear on who they should be contacting.
3. Define The Customer Journey
Once you've defined your buyer persona you can then move on to the buyer journey. The buyer journey is essentially how your potential customer moves down the conversion funnel.
When planning participating in inbound lead nurturing, define what type of communication or content you will deliver to the lead as they progress down the sales funnel. You don't want to do too much too soon, because it may come across as too aggressive or too pushy.
4. Create and Send Segmented Content
You've heard it said that content is king. Well, let me introduce you to his right-hand man: Personalization. Personalization can take your prospecting to the next level because it makes your leads feel unique, valued, and as if you are personally reaching out to them.
Segment your content so that each phase of the buyer journey receives content that is relevant to where they are in the conversion funnel. You can go even further by then segmenting the same conversion stage content to different demographics. The more personalized your communication is the more appreciated your audience will feel.
5. Automate Your Communication
If you've never had a lead nurturing tactic it can sound like a lot of work from the onset. And it is - unless you automate your process. A proper lead nurturing strategy needs to be automated in order to be efficient and effective.
Use a marketing automation tool to create message sequences that send out your content and communication. You can program these tools to send out the right content to the right leads at the right times. Not only does this take the weight off your marketing and sales teams back, but it also ensures that none of your leads accidentally get left behind.
6. Track Interactions in Real-Time
Ensuring that you deliver the right message at the right time is an essential aspect of inbound lead nurturing.
Sending certain messages, like a welcome email when someone signs up for your service, or a reminder email when someone abandons their cart can make a big difference when introducing yourself to a lead or when re-engaging them.
Timing can be especially delicate in the beginning of the buyer journey. You never want to request too much information from your leads or you risk them not trusting you.
7. Use Smart Forms
It is necessary to acquire information about your prospects so that you can categorize them properly. However, getting enough information from your leads can be a bit tricky sometimes.
This is where smart forms come in. Smart forms are able to recognize the user when they are entering in their information and populate different questions. This means that the more users engage with your website and content, the more information you can progressively collect on them. Smart forms end up being both beneficial for the company and the user, as it allows you to learn more while they aren't stuck answering the same questions over and over again.
8. Optimize Your Welcome Email
First impressions are one of the few things in life that you can never re-do. In lead nurturing, first impressions usually take place through a welcome email.
According to Experian, welcome emails have an open rate of 57.8%, compared to 14.6% for other types of emails. When emails are sent in real-time, this figure increases to 83%.
I recommend including the following in your welcome email:
Thanks: You should always be gracious and thank your lead for signing up to be in your email database.
Explanation: A welcome email is a good time to explain what you do and what kind of content you'll be sending to them
Extra Content: While they're already interested, suggest some personalized content that could appeal to them.
A CTA: They've opened your email, now what do you want them to do? Include a CTA in your email to encourage them to take the next step, whether its shop on your online store, subscribe to your YouTube channel, etc.
A Farewell: It never hurts to be extra polite!
9. Multi-Channel Lead Nurturing
Typically when marketers think about lead nurturing they think about email marketing. But strategy can occur through many different marketing channels.
As HubSpot points out, remarketing ads on Google and social media can be a great option for ecommerces or online stores, especially when a potential customer has abandoned their cart. If you upload your database into those platforms then they will be able to identify your leads and send them personalized ads. Webinars, ebooks, and downloadable resources can also be useful content.
10. Measure the Interactions Throughout the Process
It takes two to tango: Just as you are sending out communication, the leads are interacting with them. These interactions should influence your next actions.
Your prospect's interactions with your material should be included in your lead scoring process or algorithm. Once they have reached a certain score, they get sent the next "level" of content, until ultimately they reach a score that indicates they are ready to be passed on to your sales team.
11. Create Custom Offers
Remember when we talked about how important personalization is? Well, it's so important we're talking about it again!
The best lead nurturing strategies are those that include a method collecting a lot of information about your leads. When a lead is ready to convert, utilize all of that valuable information to increase the likelihood of conversion. Send them an offer that's hard to resist, like a free trial or discount.
12. Follow Through
You've heard it before: it's cheaper to keep an existing customer than it is to acquire a new customer. While the process may be called inbound lead nurturing, that doesn't mean the relationship you've formed stops once the sale has closed.
Ensure the relationship you've built with your customers stays strong. Customer service check-ins and loyalty emails are two ways to ensure the lead you worked so hard to get stays a customer for life.